Cardinals Pro Bowl Cornerback Justin Bethel to hold 7-­‐on-­‐7 Gridiron Classic Tournament
Winning team will receive $5,000 for high school program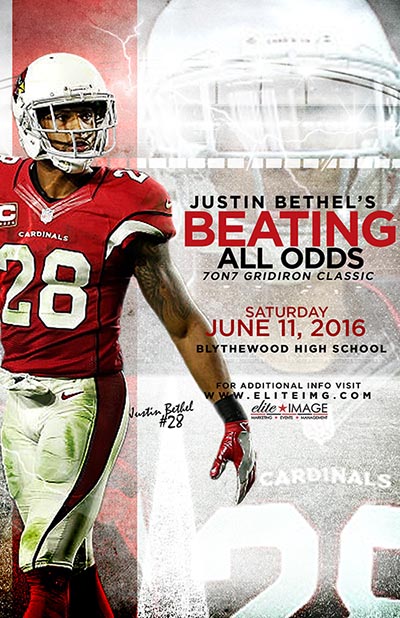 Arizona Cardinals cornerback and 3x Pro Bowler Justin Bethel will be holding a free 7-­‐on-­‐7 high  school  tournament  on  Saturday,  June  11  at  Blythewood  High  School  in  Columbia  sponsored  by  Justin Bethel's Beating All Odds Foundation.
The double-­‐elimination tournament will feature 8 to 12 of the area's high school football programs and the winning team will be awarded $5,000 from Bethel for its high school program. NFL players will be serving as honorary coaches for the high school teams that day. Those slated to be on hand include Mike Adams,  Rashad  Johnson,  Jerraud  Powers,  Jamell  Flemming,  Tony  Jefferson,  Frostee  Rucker,  Michael  Floyd, Jaron Brown, Marcus Lattimore, Andre Ellington and more.
The tournament will start at 11:00am, is free and open to the public. In addition to the tournament, autographed memorabilia will be raffled off with all proceeds benefitting the foundation throughout the event.
About the Justin Bethel Beating All Odds Foundation
The purpose of Justin Bethel's Beating All Odds Foundation is to assist in the building and stabilizing of people and organization with finances to be a positive influence in the community or to provide a service that benefits the lives of others. This program furthers the organization's exempt purpose by providing outreach and assistance to in-­‐need and underprivileged individuals. It is our mission to be a positive and effective influence in the community.